EXCEPTIONAL ROOFING AND SIDING SERVICES
Get quality installation and repair services for your roof and siding. Trust the experts at NDA Construction LLC to keep your property safe and sound.
TELL US ABOUT YOUR PROJECT.
NDA Construction – your perfect resort for Siding and Roof Solutions in Silver Spring
NDA Construction LLC offers unparalleled roofing repair and maintenance services to homeowners.
At NDA Construction LLC, we are committed to provide a full range of roof solutions in Silver Spring. We understand the importance of protecting your roof from inclement weather and so strive to maximize efficiency and reliability with our roof repairs and maintenance services. From new roof installations to complete roof systems – we dedicatedly ensure our customers have peace of mind that their roof is in impeccable condition.
Further, we take pride in offering superior quality products and excellent customer service to ensure homeowners are 100% satisfied with our work.
No matter what you require for your roof, NDA Construction LLC effectively stands ready to bring you quality results within no time. With us working on it, you never have to worry about tedious roof repairs again!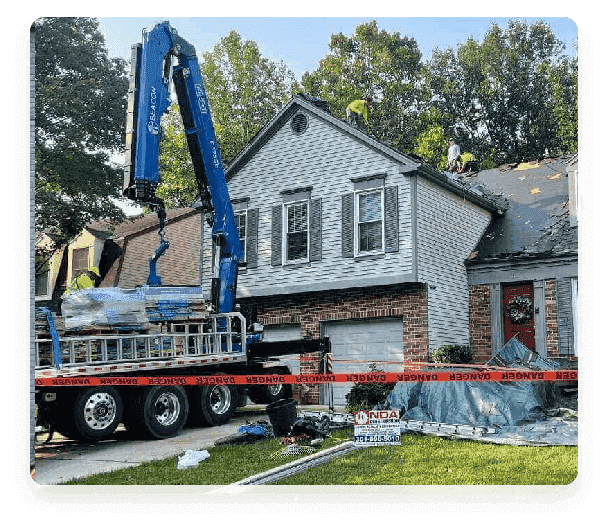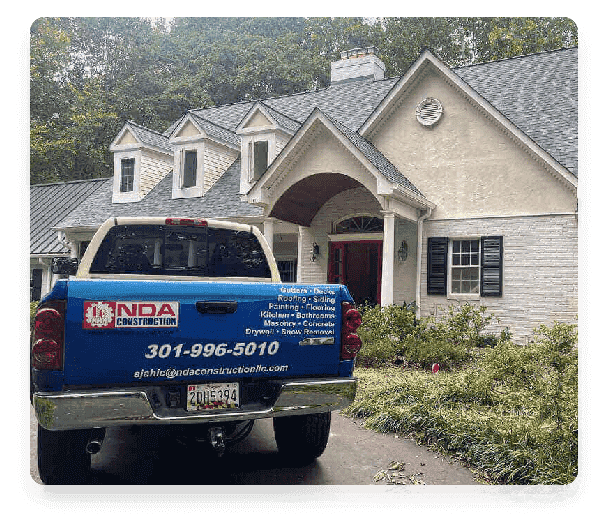 Our ultimate roof repairs and maintenance services will give your home a refreshed look and feelt
Our solutions provide homeowners with the highest quality roofing and siding designs.
From maintenance visits to complete roof replacement and renovations, NDA Construction LLC's roof solutions in Silver Spring offer professional services that exceed customer expectations. Our artistry is reliable, focusing on providing functional roofing solutions and aesthetic details that make your home look its best.
NDA Construction LLC provides detailed estimates, including labor costs and product information, so you can make informed decisions about the best roofing solution for your needs while still getting the most bang for your buck.
Not only do our roofing and siding contractors have the expertise to complete all roofing projects efficiently, but we also offer customer service with expert advice to ensure everything is done correctly.
The NDA Construction LLC's roofing solutions will give you a roof that meets all your expectations. You won't regret choosing us for all your roofing needs!
1
What is the most common problem with roofing?
Water damage is a major cause of roof failures. When wood structures are consistently exposed to water, they can become vulnerable to mold, bacteria, and decomposition. Protect your roof and your home by addressing water intrusion issues promptly.
2
How can I prevent roofing problems?
There are several things you can do to prevent roofing problems. Firstly, you must keep it clean and inspect it regularly for any signs of damage. When you spot an issue, don't delay it, as it may become severe. Consider getting a roof examination and repair by professionals at NDA Construction LLC so that you can start with your roofing repairs immediately before any major damage is caused.
3
Why should you choose NDA Construction LLC for roof installation?
If you need a new roof, the NDA Construction LLC's Roofing and Siding Services can help you choose the suitable material and design for your home or building and install it properly. Our talented team has years of experience in providing roofing services, so rest assured that you will get the best solution.
4
How can I prevent siding problems?
To fix the rough sliding door movements, try cleaning the rollers with oil or a grease additive to reduce friction and improve their movement. This may help to make the door easier to use. If DIY methods don't work, you should consult a professional Company like NDA Construction to examine and fix the issues.
5
Can you provide references or examples of your past work?
Yes, we can provide references or examples of our past work upon request. We are proud of the quality of our work and are happy to share it with our potential customers.