CLASSY KITCHEN REMODELING SERVICES
Get ready to transform your basic, run-down kitchen into a beautiful, ultra-modern space
TELL US ABOUT YOUR PROJECT.
We know your kitchen needs a makeover - pronto
Does your kitchen feel boring and outdated?
Are you embarrassed to host parties because of the shabby condition of your kitchen?
If you're nodding your head, it's time you got in touch with NDA Construction - a company renowned for kitchen remodeling in Silver Spring, MD. We can revamp your kitchen in record time and keep costs to a minimum.
And yes, we know you're very busy, so our team of experts will take care of everything. We'll help upgrade your space by replacing all the old cabinets and appliances with trendy, useful ones. What's more, we'll create a perfectly designed kitchen customized to your needs and lifestyle.
Now, all you need to do is describe your ideal kitchen and watch us work our magic.
Ready to start your kitchen remodel project?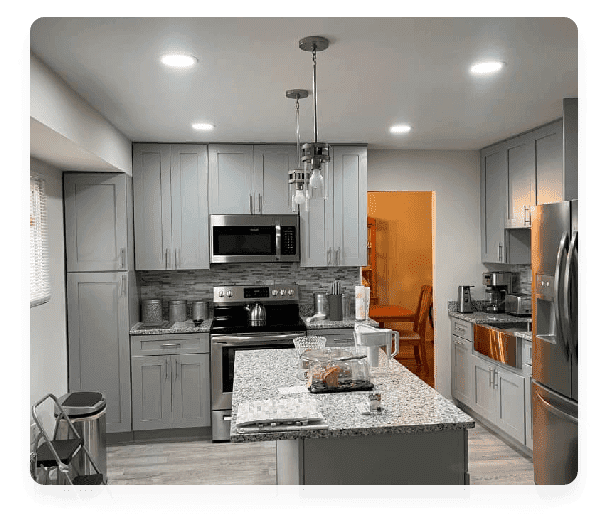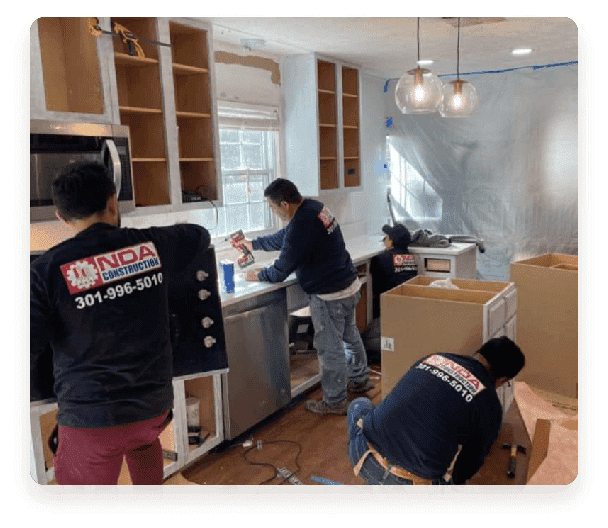 Your search for the best kitchen contractors near me ends here.
If you're looking for someone to undertake your kitchen remodeling in Maryland, we are the answer to your prayers. NDA Construction is a reliable kitchen renovation company located in the heart of Silver Spring.
What makes us the best kitchen remodel company in the area?
We have the skills, employees, and years of experience to ensure we create the perfect kitchen space for your home. So we have what it takes to build a kitchen you won't want to stay away from.
More importantly, all our kitchen remodels aim at supporting a smarter lifestyle. Our primary focus is on improving the functionality and appearance of the kitchen with eco-friendly, energy-efficient designs. We also incorporate elements that will add value to your home, such as new cabinetry, countertops, lighting, flooring, tiles, and fixtures.
CHECK WHAT OUR CUSTOMERS HAVE TO SAY ABOUT US
1
Why is a kitchen renovation important?
There are several reasons why people consider a complete kitchen remodel. Most homeowners decide to renovate their kitchen because it's one of the most frequently used places in the home, so it receives a great deal of wear and tear. Others prefer to increase the functionality, storage space, safety, and energy efficiency of the original kitchen.
2
Why should I look for kitchen contractors near me?
It takes considerable research to find the best kitchen improvement company for your home. However, hiring a local contractor is one of the better choices you will make for your project. Since they are familiar and up-to-date with local codes, they can ensure your kitchen is built quickly and safely. So, if you happen to be looking for a kitchen remodeling company in Maryland, NDA Construction is a good option. We know the local codes in Silver Spring and the surrounding suburbs
3
What should I consider when deciding on a budget for my kitchen renovation?
A kitchen remodel is a great way to make your living space more comfortable and increase its value. But before starting, it's very important to know exactly how much you can afford. Your budget will allow you to decide what you can or cannot replace. Above all, keep in mind that the key to a successful remodel project is to make sure you never compromise on the quality of the material or products used. And that is something we take very seriously.
4
How long will it take to remodel my kitchen?
The exact time it can take to remodel your kitchen depends on several factors, such as the size of your space and the complexity of your renovation. Contact us today, and we will give you an estimate of the timeline it will take to get your dream kitchen ready.
5
What are the stages of a typical kitchen remodeling process?
The stages can vary depending on the extent and budget of your remodel. Remember, our team will be by your side every single step of the way and update you about the progress of your project.