FLAGSTONE REPAIR & INSTALLATION SERVICES IN MARYLAND
Trust NDA Construction LLC to shape stones into accurate geometrical patterns and enhance your property's landscape. The charm and functionality it brings your way are unmatched!
TELL US ABOUT YOUR PROJECT.
Our Flagstone Patio Installation will Spice up Your Space
If you're experiencing issues with your flagstone patio or walkway, such as crumbling or degraded mortar joints, it may be time to consider a repair. No need to strain yourself while looking for the best flagstone patio installers near me. NDA Construction is here to offer its comprehensive services.
At NDA Construction LLC, we offer professional flagstone repair services to restore the safety and stability of your outdoor space. Our team will assess the condition of your flagstone installation, whether it is dry laid or mortared, and provide a detailed estimate of the necessary repairs.
While working on each project, our skilled artisans are dedicated to finding the best solution for your flagstone patio installation needs. Taking your specific requirements into consideration, we work to provide a solution that meets all of your goals. Trust our expertise, and let us help you bring your flagstone installation project to life.
With our attention to detail, you can rest assured that your flagstone patio or walkway will be returned to its original state. Don't let a damaged flagstone surface be a safety hazard - contact NDA Construction LLC for reliable repair services.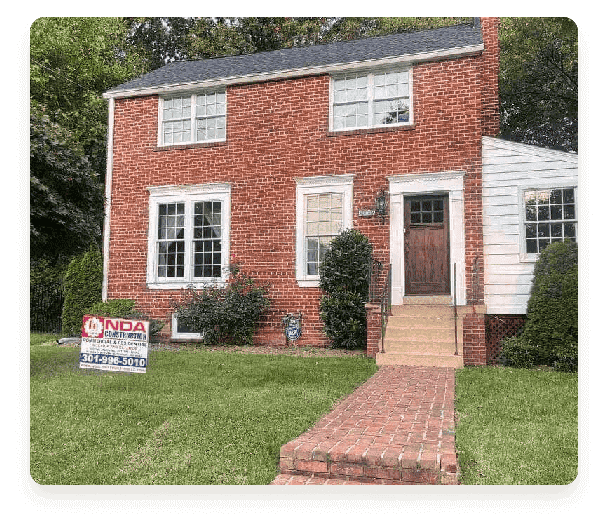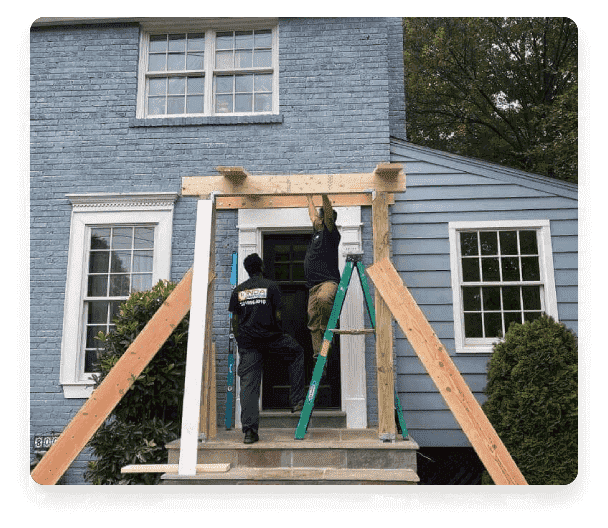 Premium Flagstone services that Elevate Your Outdoor Spaces
Is your patio in need of some TLC? No problem!
At NDA Construction, we've got you covered with our expert patio repair services. From fixing tiles and stones to addressing any structural issues, we'll make sure your patio looks new in no time. And if you're looking for a complete overhaul, we can install a brand-new patio.
We take pride in ensuring that our flagstone installation process adheres to all standard operating procedures. You can trust that we'll take every precaution when we install a flagstone patio to ensure it is of the highest quality.
A perfectly designed flagstone with sturdy foundations is meant to improve the durability of your home while maintaining its aesthetics. Our professionals leave no stone unturned when it comes to laying a solid foundation. Knowing that we have a reputation to maintain, we use high-grade materials and stay connected with the latest technologies to ensure every client returns happily from our doors.
Just tell us your vision, and we'll bring it to life. Don't let a broken patio bring you down - let NDA Construction bring it back to life!
CHECK WHAT OUR CUSTOMERS HAVE TO SAY ABOUT US
1
How do you price the flagstone repair or installation projects?
The cost of your flagstone installation or repair project may vary based on the type, size, and color of the flagstone you choose. Be sure to consider these factors when budgeting for your project.
2
What distinguishes NDA Construction LLC when it comes to flagstone installation or repair?
At NDA Construction LLC, we understand that every customer has unique requirements and preferences regarding their flagstone installation or repair project. That's why we take the time to listen to our customers and understand their specific needs and goals. With this information, we can design a flagstone solution that meets and exceeds their expectations.
3
How long does a flagstone installation or repair project typically take?
The length of a flagstone installation or repair project can vary depending on the size and complexity of the project. Our team will provide you with a timeline during the consultation process.
4
How does your team prioritize safety in each project?
We specialize in repairing flagstone porches to restore stability and safety for you and your family. Plus, we follow all necessary safety protocols during the project to ensure the well-being of our workers and those in the surrounding area.
5
Why should I get a flagstone repair when it is not entirely damaged?
At NDA Construction LLC, we believe in the benefits of taking a proactive approach to flagstone repair. You can save time and money in the long run by addressing any issues before any significant damage is caused.