Are you on your way to pick out some tiles for your new kitchen? Or are you planning to give your old kitchen a makeover and need floor tile ideas? We present 5 durable and elegant floor tile ideas for kitchen that will help you make the best decision.
The kitchen is the heart of every house, and its design is critical in creating a comfortable and functional environment. When it comes to kitchen renovations, one frequently ignored feature that holds massive power on the final outlook of your kitchen is the flooring. The perfect floor tile can improve the look and feel of your kitchen, adding style, personality, and longevity.
If you're feeling a bit overwhelmed in your search for the perfect kitchen floor tiles design, we don't blame you. In fact, in this article, we bring you a selection of various kitchen floor tile ideas that will surely inspire you. Whether you prefer a timeless and traditional style or a vibrant and current look, we've got you covered.
5 Durable Floor Tile Ideas For Kitchen
1. Marble Flooring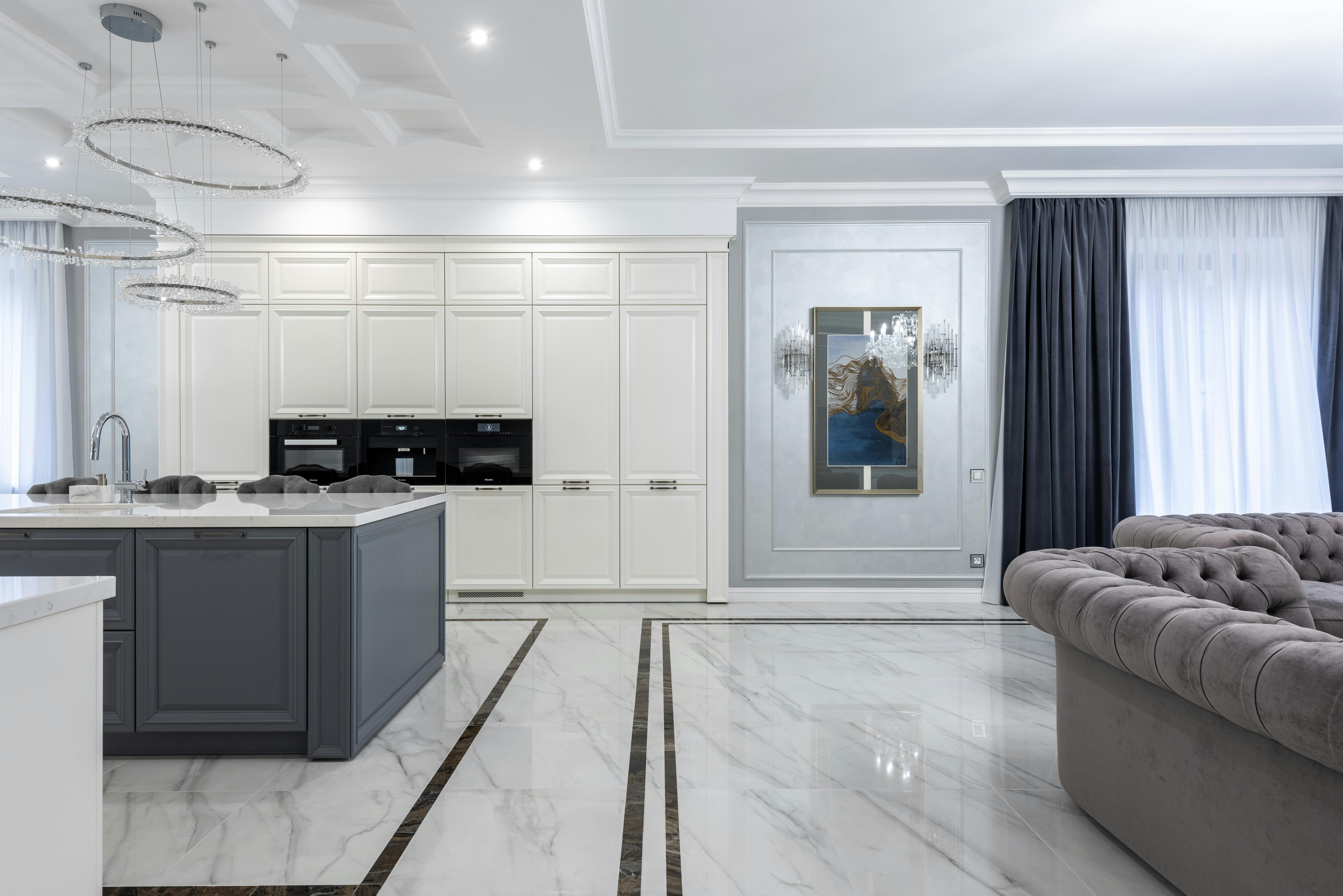 When discussing floor tile ideas for kitchen, marble has to be on top of the list. It is one of the most timeless tiling options you'll ever come across. Marble has a high-end finish, giving your kitchen an elegant and luxurious look. Plus, marble floors are relatively easy to clean.
Marble comes in a variety of colors to choose from, so there is something for everyone. A significant advantage of marble floors is that well-maintained and properly installed marble floors are scratch resistant. They hold up well in high-traffic areas like the kitchen, making them durable.
Marble flooring helps in making the room feel bigger and brighter. It is slightly translucent, which allows some light to pass through it, increasing the amount of natural light available in the room. When sunlight touches marble, it can almost appear to shine, especially if it is white or lighter in color.
2. Ceramic Flooring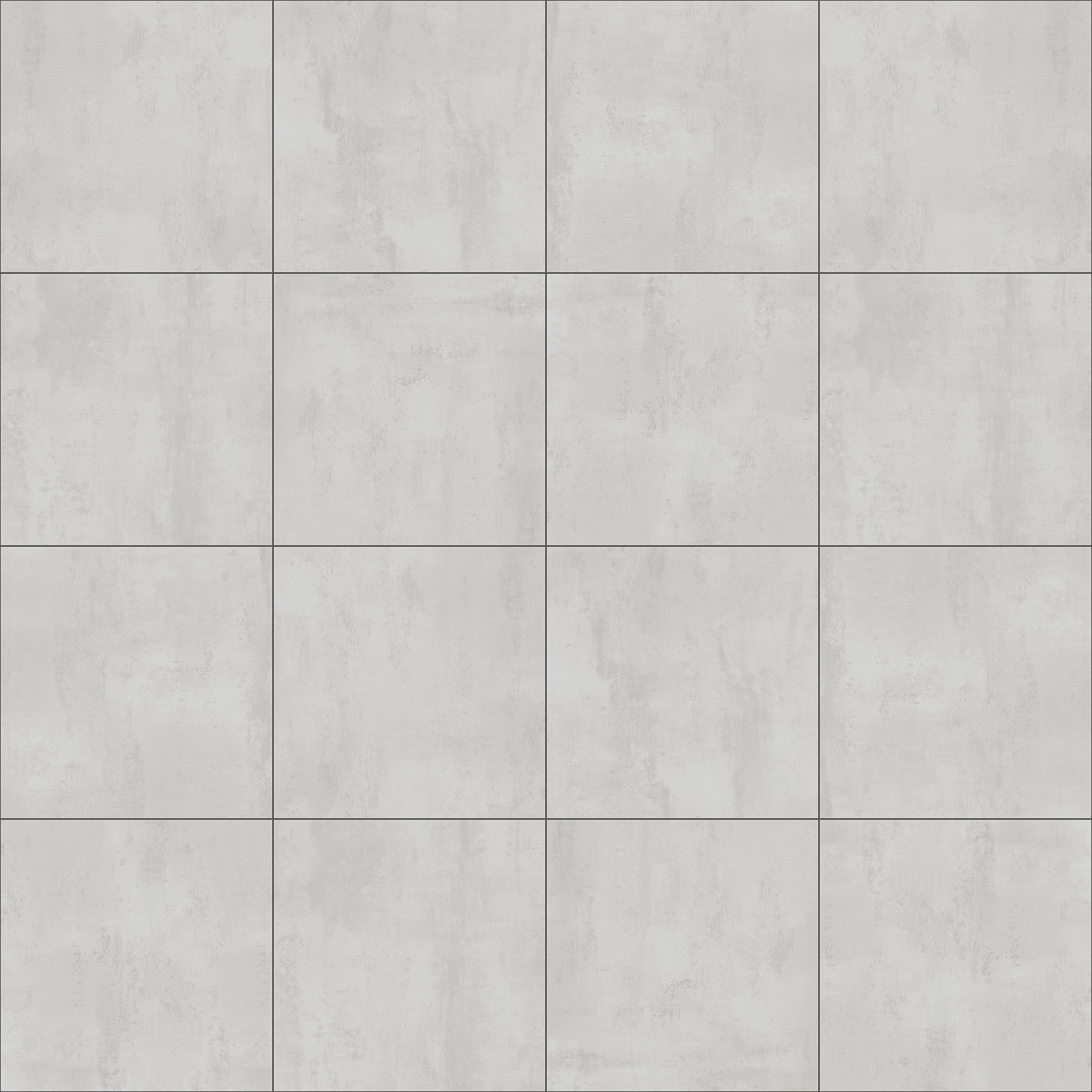 Ceramic tiles are one of the best and most popular kitchen tile floor options available for modern kitchens. They are impermeable and water-resistant, making them less susceptible to bacteria and fungi. They require minimal maintenance and provide you with a germ-free kitchen with no extra cleaning.
Additionally, ceramic tiles are safe from stains and scratches while being crack-resistant and fireproof. They give an extra layer of protection against damage, making them a long-lasting and excellent choice for residential or commercial kitchen designs.
Ceramic tiles are found in various colors, sizes, textures, and styles. With endless alternatives for ceramic tiles for kitchen floors, you may create your own style, whether contemporary or traditional.
3. Vinyl Flooring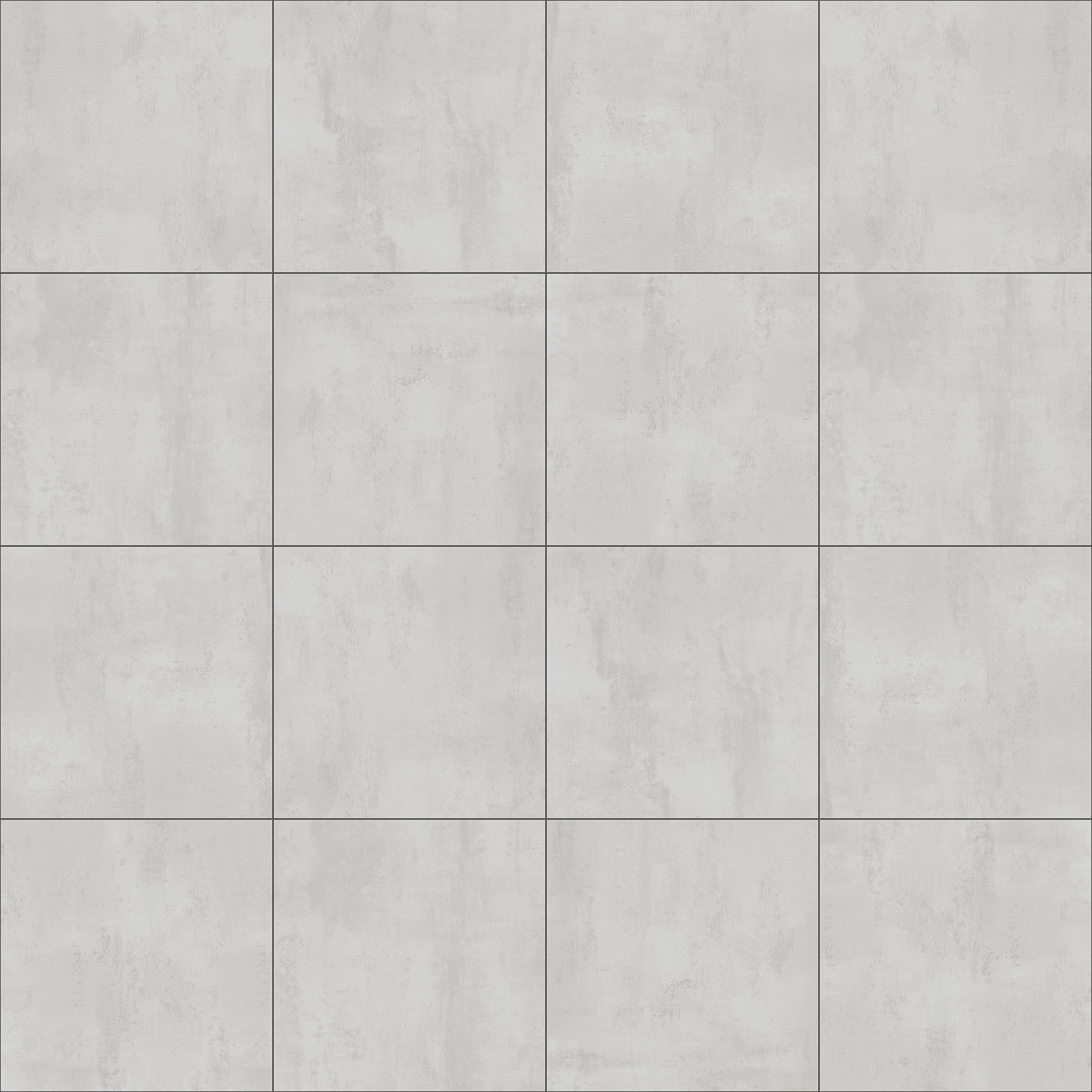 A very durable and extremely gorgeous kitchen tile that has recently started becoming a popular floor choice is vinyl. First, vinyl flooring is resistant to water and stains, making it an excellent choice for high-traffic kitchens with many spills from cooking and leaks from the dishwasher or refrigerator.
Secondly, vinyl is one of the cheaper tiling options available on the market; for something as inexpensive, it has the most extended durability you could possibly ask for. A vinyl tile will easily last you a minimum of 10 years and can even work for 20 years in some cases. It gives you the same elegant and beautiful finish as an expensive tile but at a fraction of that price, hence not burning a hole in your wallet.
Vinyl is a soft flooring material, which makes it ideal for the kitchen because we are frequently standing on our feet for lengthy amounts of time in the kitchen, creating delicious meals. As a result, soft flooring, such as vinyl flooring, is excellent for making it more comfortable to stand on. Furthermore, the smooth surface makes objects less prone to break when dropped, which is fantastic news for your glasses and mugs.
4. Terracotta Flooring.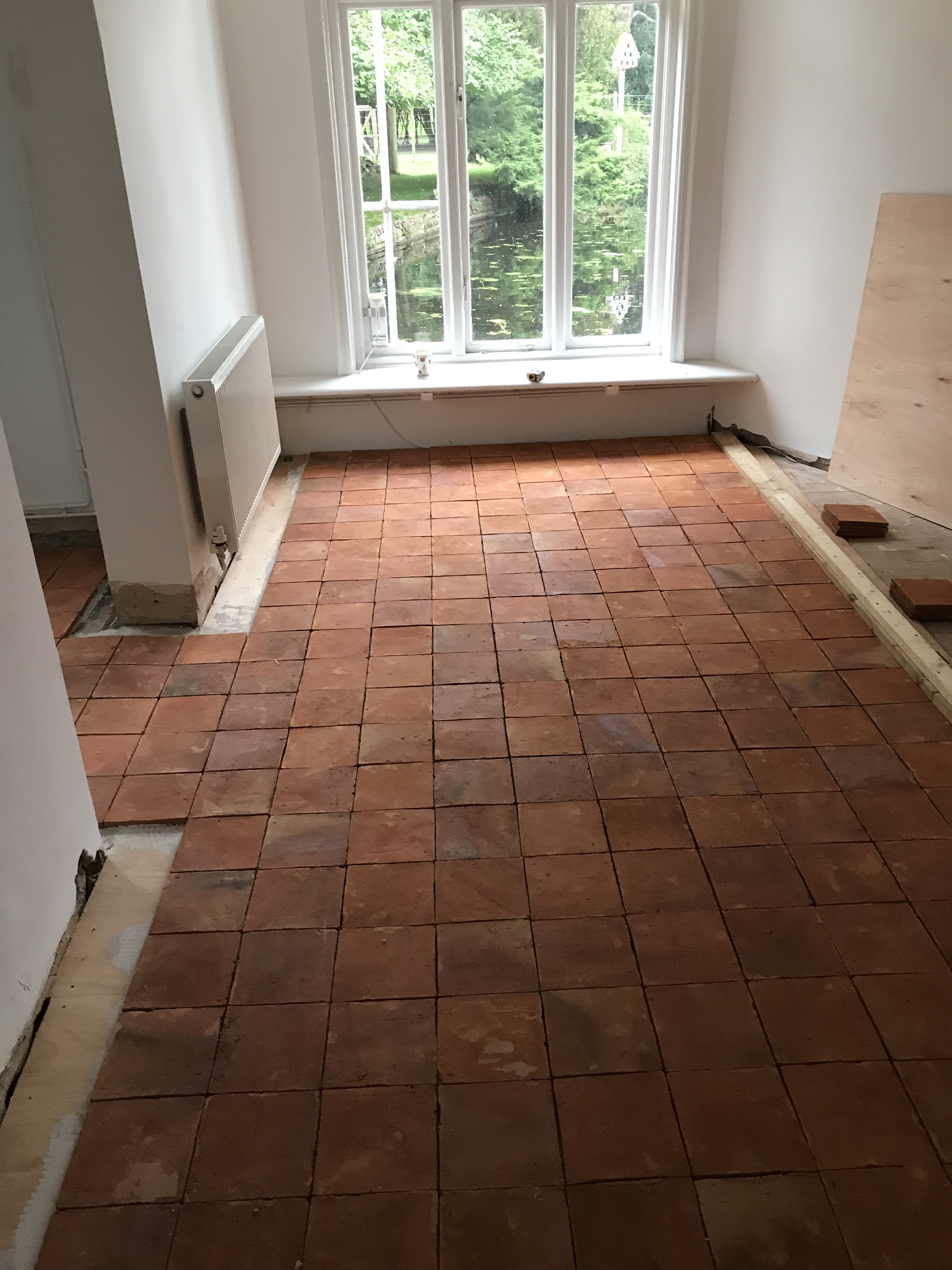 Another one of the low-maintenance floor tile ideas for kitchen includes terracotta flooring. Terracotta is a waterproof tile which means it promises no extra fancy maintenance and easy cleaning once applied well. They are shock and temperature resistant, which means spilling that hot curry on the floor would not damage your tiles.
Terracotta is a durable option because it is resistant to sunlight, which means it easily retains its color and appeal over time. If you have a luminous kitchen with large windows or a skyscraper, terracotta tiles are the ideal choice. Even if you do manage to damage these tiles, it's easily fixable and requires no fancy repairs.
Terracotta provides design and size flexibility. It is a traditional tiling option, and the natural material is timeless. This is significant since it runs opposite the existing diminishing real estate value trend. It's basic, long-lasting, and adaptable. It's also simple (and inexpensive) to manufacture.
5. Porcelain Flooring
Porcelain tiles and ceramic tiles are similar, but porcelain tiles are thicker and more resilient. They have fewer air pockets that are evenly dispersed throughout their design. As a result, your porcelain tile floors are less likely to crack or shatter.
Porcelain floors are extremely resilient, even when subjected to heavy footfall or pet claws. The porcelain tile clay is finely purified and baked at a greater temperature, resulting in exceptional strength. They are the greatest option for long-lasting floors.
Porcelain tile is simple to clean, wipe, and sustain over time. They will also not harbor bacteria as porous surfaces do, nor will they stain as quickly as regular tiles. Porcelain tiles are available in a variety of styles, including some that seem like genuine stone or wood. They are the perfect choice for high-traffic areas in the kitchen.
Parting Thoughts
The appropriate floor tile for your kitchen can improve both its aesthetic and functionality. There are numerous options available to fit your taste and style. When choosing kitchen floor tiles, keep durability, maintenance requirements, and overall appearance in mind. Remember that balancing functionality and aesthetics is vital for creating a functioning and visually pleasing area.
If you have some floor tile ideas for kitchen in mind and are looking for a trustworthy renovation company to help execute your vision, consider hiring NDA Construction llc. From expert guidance to quality construction, we will help you out each step of the way and leave you with a beautiful tiled kitchen floor.