People who love to spend time outside and want their own little space must check out covered patio ideas to create a perfect oasis outdoors for themselves and their families. In this blog, we will explore some of the most charming and relaxing patio designs that can help you build the perfect outdoor retreat.
A covered patio can be one of the best places in your home. It can provide a comfortable and inviting space to spend time outdoors. And also uplift the ambiance of the entire home. It's also a great place to just unwind and relax. Whether you want to enjoy a cup of hot coffee in the rain or curl back and read under the stars, these patio cover ideas will inspire you to create a safe haven outside your home.
Design Your Dream Oasis With These Covered Patio Ideas
Creative Covered Patio Designs
Utilize The Cozy Balcony Space
Most of us don't own homes with backyards and gardens out front. Does that mean we don't deserve a relaxing outdoor space to enjoy the fresh air? We most certainly do!
In that case, the best idea is to revamp and transform your balcony with the right design and decor to build a serene and cozy outdoor area. You can easily create a soothing and inviting atmosphere on your balcony by placing patio furniture and decorating it with soft cushions, light-colored pashmina or sofa throws, and a few candles. Also, place a few hanging baskets of flowers and trailing greenery to make it a more aesthetically pleasing and refreshing space.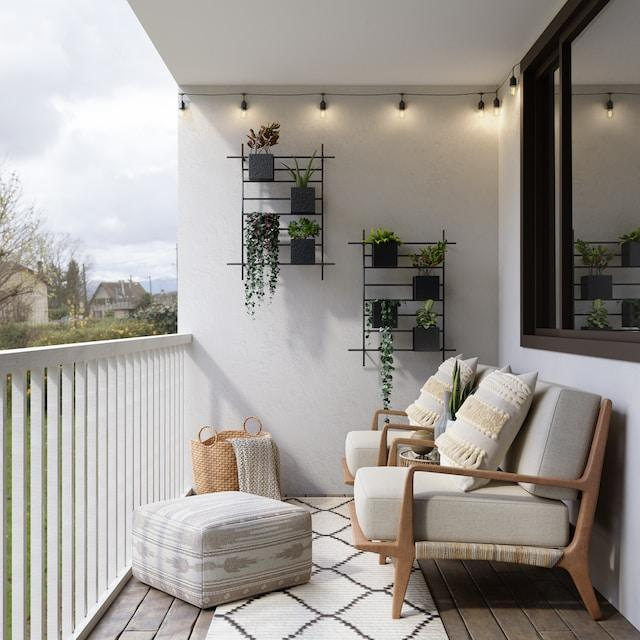 Enclosed Skylight Patio
A patio isn't as relaxing if the intense sun rays are trying to burn you or the rain keeps drenching you. So, to protect yourself and your home from rain, shine, and other elements, one of the best patio cover ideas includes an enclosed skylight patio.
There are multiple options in the market when it comes to building an enclosed skylight. You can go for monochromatic tones and minimalist design, or you can choose a vintage skylight idea. The choice is yours to beautify your home and create a patio with the perfect amount of natural light and an open feel.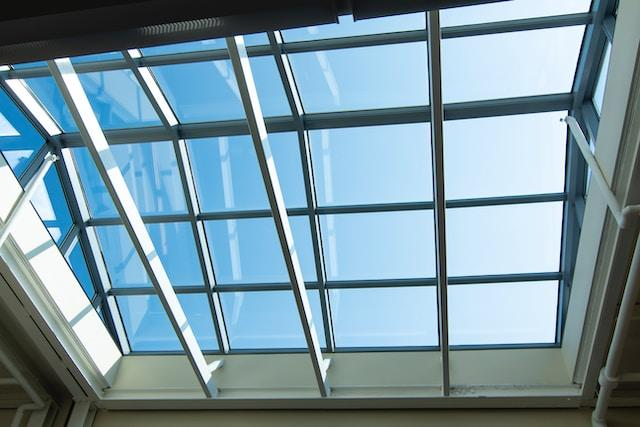 A Rustic Look With Pergola And Climbing Plants
If you want to add a pastoral touch while also maintaining the stylish look of your patio, we recommend opting for a picturesque pergola decorated with climbing plants and vines. It is one of the most popular back patio cover ideas, and rightfully so. This design provides the patio with a homely look through the plants. The right vines and climbing plants will also help keep the area cool during sunny days and maintain a proper aesthetic environment too.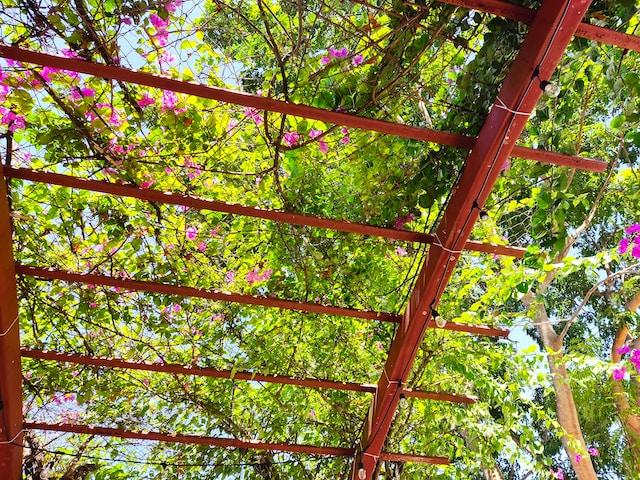 Add Summer Feels Through A Timber Frame
To maintain the natural warmth of the weather, the most sought-after design is a timber frame covering the patio. Timber is one of the most beautiful woods that brings a cozy and inviting feel to your outdoor space. Its beauty also creates a rustic charm which adds to the elegance and sophistication of our patio.
The best part about the timber frame is its durability which ensures that the patio can stand the test of time and weather. The exposed beams of the wood also create a visually appealing structure. This will make your patio a relaxing zone filled with natural warmth, beauty, and elegance. You can also add woven shades on top of the timber frame for the perfect beachy vibes.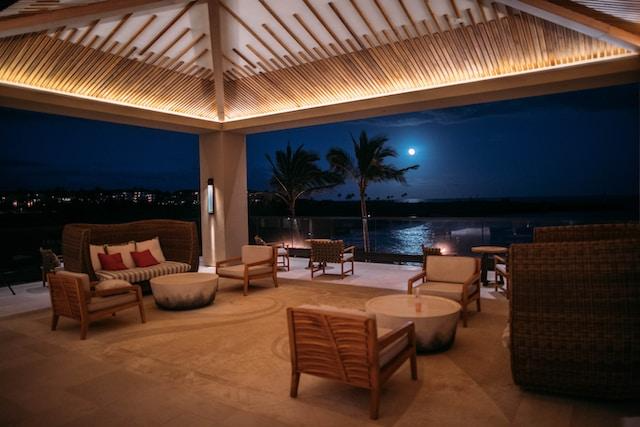 Create A Cabana With Outdoor Fabrics
for a luxurious and chic-looking patio, the classic option is to build a cabana and fix it up with outdoor fabrics. It's a beautiful and practical addition to your home that provides you with customizable options when it comes to protection from rain or shine. You can keep the fabrics tied to the posts on blissful days when the pleasant weather allows you to completely immerse and relax in your outdoor space.
There are multiple options to beautify the cabana too. And the major advantage is that you can change the interior and designs to your liking.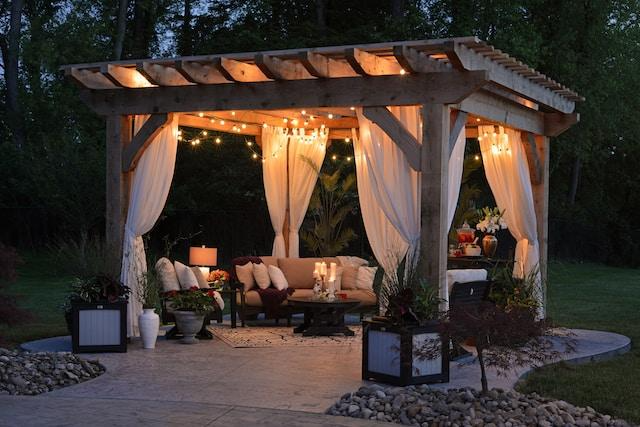 Functional Covered Patio Ideas
Sunken Conversation Pit With Wood Covering
If you want to let go of the old, boring patio designs, you can always go for a unique and eye-catching sunken conversation pit that can add depth and appeal to your patio. It can also provide an exceptional space for lounging, reading, or just enjoying a few drinks with your friends.
The sunken patio is a great idea because it offers function while still maintaining the outdoor aesthetics. It also provides a cozy and intimate space and a memorable feature that adds value to your home.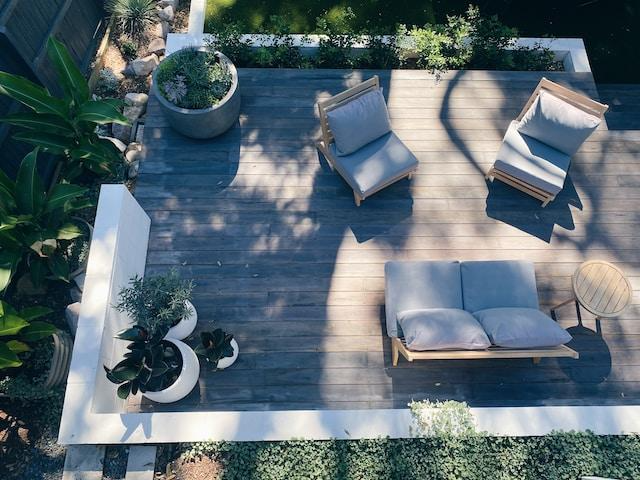 Customizable Protection From The Elements
A graceful and elegant way to protect your outdoor area and enjoy it to the fullest is to place a retractable awning or canopy above. It offers a customizable design and provides an adjustable shade solution that's perfect for every weather. The canopy will also allow you to build a comfortable and protected outdoor space for entertainment and relaxation.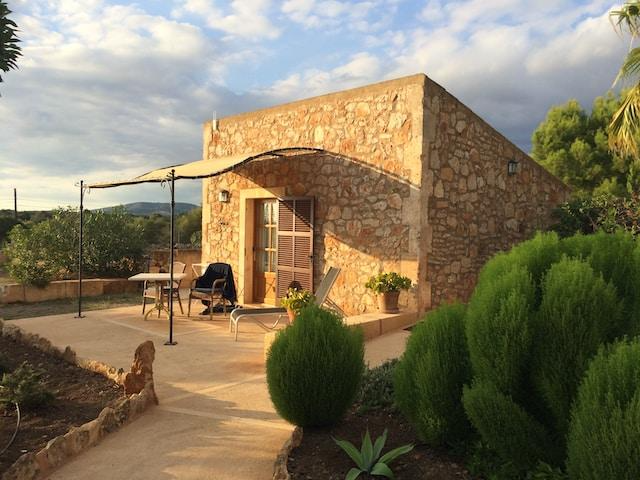 The Iconic Gazebo And Garden Hideaway
For individuals who love to go the extra mile, a timeless gazebo is the perfect patio space. The iconic structure brings a certain charm and elegance to the space. It's also an ideal and sturdy shelter against all weather conditions.
A gazebo with a stoned ceiling gives a natural and rustic feel that's perfect for a cozy and warm ambiance. You can easily create an intimate space for relaxation, dining, or entertaining guests in a gazebo. To make it more attractive, you can add floral plants, vines, lighting, and other accessories.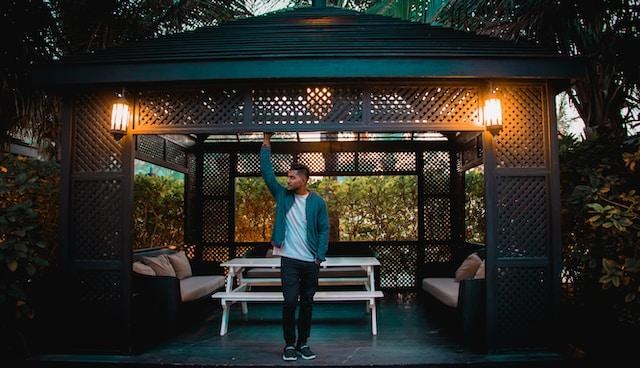 Tiki-inspired Patio Area
One of the most beautiful covered patio ideas includes a tiki-inspired bamboo overhang for a tropical and exotic ambiance. This Asian-inspired outdoor space is perfect for people who love nature. You can build a bamboo roof, place tropical plants on the patio, add some matching furniture, and voila, It's a small paradise in your home!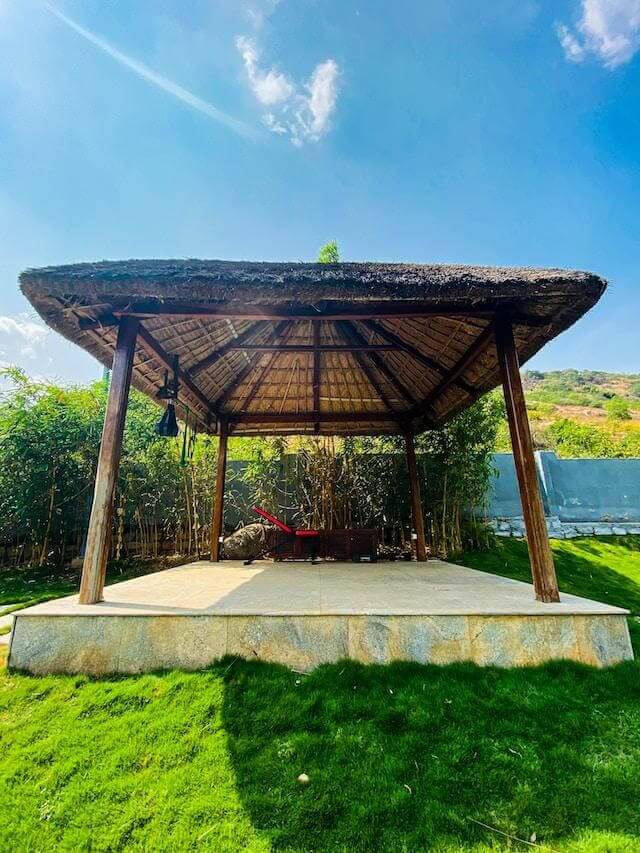 Infusing Natural Beauty Into Your Covered Patio
Whimsical Wisteria-Covered Pergola
A wisteria-covered pergola creates a romantic and charming ambiance around the patio. If you are a true romantic at heart, this will definitely please you. The beautiful blooming vines provide a peaceful environment and add an intimate feel to the outdoors. It creates a therapeutic space for you and your family. Trust us, modern patio furniture surrounded with greenery and scenic beauty is all you need to let go of all the tension of life.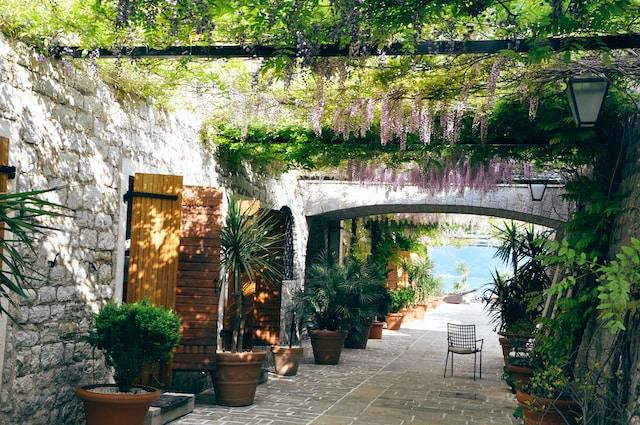 Trellis With Trailing Greenery
To add a more natural and serene feel to your outdoor space, we recommend choosing patio cover designs with a trellis. You can adorn the trellis with trailing greenery and floral vines for a perfect refreshing atmosphere. After all, it's one of the best ways to add greenery to your space without heavy potted plants and difficult-to-maintain shrubs.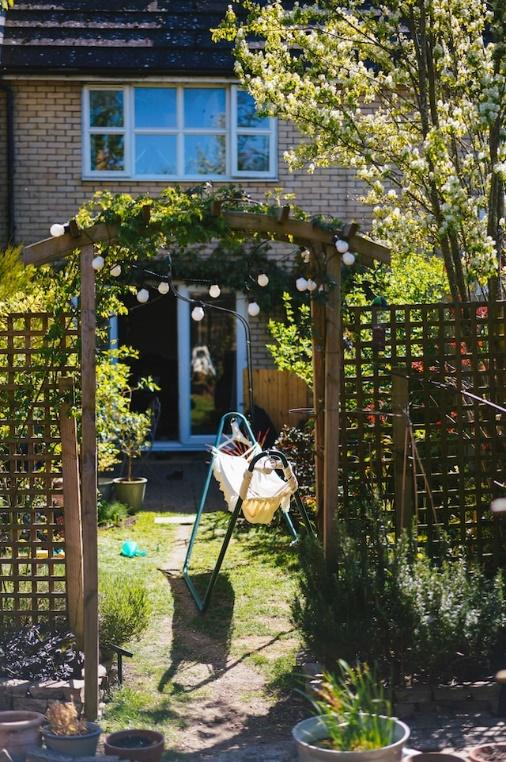 Final Thoughts
Whether you are in the mood to revamp your old patio or create a new one, there are numerous covered patio ideas to choose from. But with so many design ideas and options, it can be hard to know how to begin. In such cases, you should explore the interior of your house and your personality and build a patio that reflects both. To help you create the patio of your dreams, you can always go to NDA Construction. It's the most trustworthy home renovation company for a reason.